Wolverine and Ghost Rider Team Up in Fiery Marvel Teaser
Two Marvel icons team-up in the publisher's latest high-octane series.
Wolverine and Ghost Rider are arguably Marvel's two most popular adult-skewing characters. Between the former's adamantium claws and the latter's Penance Star-inducing flaming head, the two have both become icons at the House of Ideas. Now, in the year 2023, the two are teaming up in a four-issue mini-series, a story sure to delight fans of both characters and finally, Marvel has released a preview at the upcoming story. Titled Ghost Rider/Wolverine: Weapons of Vengeance – Alpha #1, Wolverine and Ghost Rider come to blows in a fight that would make Batman and Superman blush.
"LOGAN & BLAZE—THE WEAPONS OF VENGEANCE! LOGAN's the best there is at what he does—and what he does as the deadly WOLVERINE isn't very nice. When innocent blood is spilled, JOHNNY BLAZE becomes the GHOST RIDER, equipped to deal punishment with the power of hellfire! A demonic serial killer is murdering innocent mutants," Marvel says of the series. "But what is it about this deadly new villain that forces our two heroes to team up? And what buried secret does he share with Wolverine and Ghost Rider's never-before-seen very first meeting in the past? Get ready for claws, chains and violence as only Benjamin Percy (WOLVERINE, GHOST RIDER) and Geoff Shaw (THANOS, GUARDIANS OF THE GALAXY) can bring in this four-part epic!"
Ghost Rider/Wolverine: Weapons of Vengeance – Alpha #1
Written by: Benjamin Percy
Art by: Geoff Shaw, Rain Beredo
Cover by: Ryan Stegman, J. P. Mayer
Page Count: 36 Pages
Release Date: August 9, 2023
Keep scrolling to see the title's first preview!
Page 4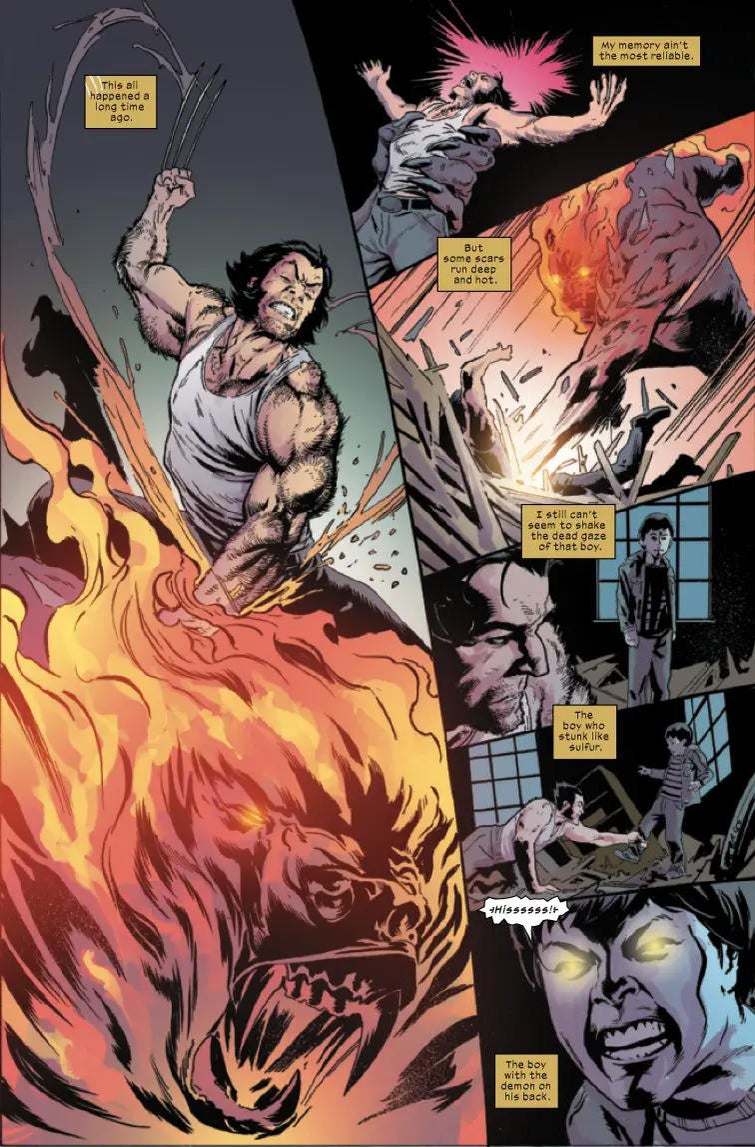 *****
Ghost Rider/Wolverine: Weapons of Vengeance – Alpha #1 is due out on August 9th.
prev
0
comments