The Weekly Pull: Batman: Wayne Family Adventures, Thor: The Mighty Avenger, Damn Them All, and More
DCs WEBTOONS series come to print, X-Men villains get their own series, and more.
It's almost another new comic book day, which means new releases hitting stores and digital platforms. Each week in The Weekly Pull, the ComicBook.com team highlights the new releases that have us the most excited about another week of comics. Whether those releases are from the most prominent publisher or a small press, brand new issues of ongoing series, original graphic novels, or collected editions of older material, whether it involves capes and cowls or comes from any other genre, if it has us excited about comic books this week, then we're going to tell you about it in The Weekly Pull.
This week, DC's first webtoon comes to print, the Children of the Vault emerge, and Damn Them All gets its first collection. Plus, more DC webtoons with Vixen, a new printing of one of the best Thor comics of all time, and more.
What comics are you most excited about this week? Let us know which new releases you're looking forward to reading in the comments, and feel free to leave some of your suggestions as well. Check back tomorrow for our weekly reviews and again next week for a new installment of The Weekly Pull.
Barbarella: The Center Cannot Hold #5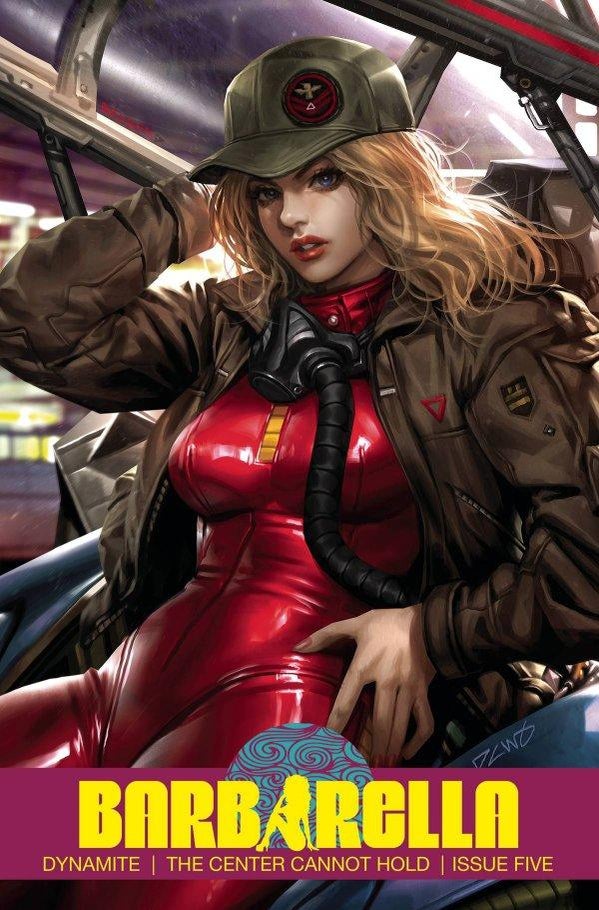 Written by Sarah Hoyt
Art by Riccardo Bogani
Colors by Werner Sanchez
Letters by Carlos M. Mangual
Published by Dynamite Comics
With Barbarella headed back to the movies in a Sydney Sweeney-starring reboot, now is as good of a time as ever to catch up on the character's eclectic comic journey. Barbarella's latest comic miniseries, The Center Cannot Hold, comes to a close this week — and it promises to shake up the universe in some dangerous and fascinating ways. Hopefully, we won't have to wait long for the next comic showcase for Barbarella, but this has the potential to be a fun finale. — Jenna Anderson
prev
next
Batman: Wayne Family Adventures Vol. 1 TP
(Photo: Vasco Georgiev, DC)

Written by CRC Payne, Susan Cheng
Art by StarBite, Maria Li
Inks by StarBite, Lan Ma, Suzi Blake
Colors by Jean Kim, C.M. Cameron, Camille Cruz. Paula "Polux" Fidelis
Letters by Kielamel Sibal
Published by DC
I've been slow to get in on the webtoon craze. However, I couldn't resist checking out Batman: Wayne Family Adventures, a slice-of-life comic that features Batman and his ever-increasing number of wards, children, sidekicks, and other youngsters that puts the lie of the Dark Knight's loner persona. Created by CRC Payne and StarBite, Batman: Wayne Family Adventures has been a delight from its debut. Most episodes feature lighthearted humor that'd likely never appear in DC's main Batman line. That humorous tone occasionally gives way to something sweeter and more sincere, helping to keep the comic from feeling shallow or one-note. DC is bringing Batman: Wayne Family Adventures to print this week for readers who aren't keen on vertically scrolling through the Batman Family's most charmingly mundane misadventures on their phones. The first 208-page volume of the Eisner-nominated series reworks Batman: Wayne Family Adventures' first 25 installments into a reading experience fit for print. The series gives Batman the vibes of My Adventures With Superman (though the webcomic predates the hit animated series), meaning Batman: Wayne Family Adventures has the potential to bring Batman and his allies to a brand new generation of fans. Get one for yourself and another to lone to someone who needs it. -- Jamie Lovett
prev
next
Children of the Vault #1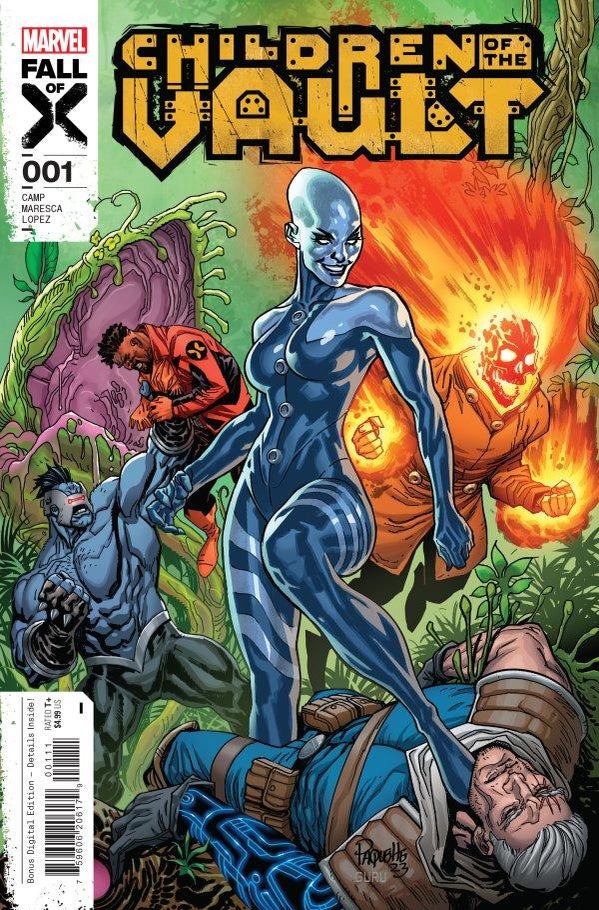 Written by Deniz Camp
Art by Luca Maresca
Colors by Carlos Lopez
Letters by Cory Petit
Published by Marvel Comics
Deniz Camp wrote one of my favorite comics of the last few years, 20th Century Men, a high-concept work that filters the conflicts of the last century through the lens of superheroes standing as avatars of their predominant ideologies. He's bringing his talents to Marvel Comics for Children of the Vault, a miniseries launching as part of the Fall of X. The Children of the Vault have been one of the coolest deep-cut X-Men antagonists ever since Mike Carey and Chris Bachalo introduced them to Marvel Comics nearly 20 years ago. Camp told us in an interview that the Children in this series represent another possible vision of the future among the many already in play between mutants and humans since the Krakoan era began. Naturally, in dealing with the potential future, time-traveling mutants Cable and Bishop are bound to get involved, and they have a long history of their own to work out. On the surface, Children of the Vault sounds like a love letter to a particular era of X-Men that began with "Supernovas" and concluded with "Second Coming." However, with Camp writing the scripts for Luca Maresca's stylish linework, we're confident there's more here than a simple nostalgia play, possibly even one of the sleeper hits of the year. -- Jamie Lovett
prev
next
Damn Them All Vol. 1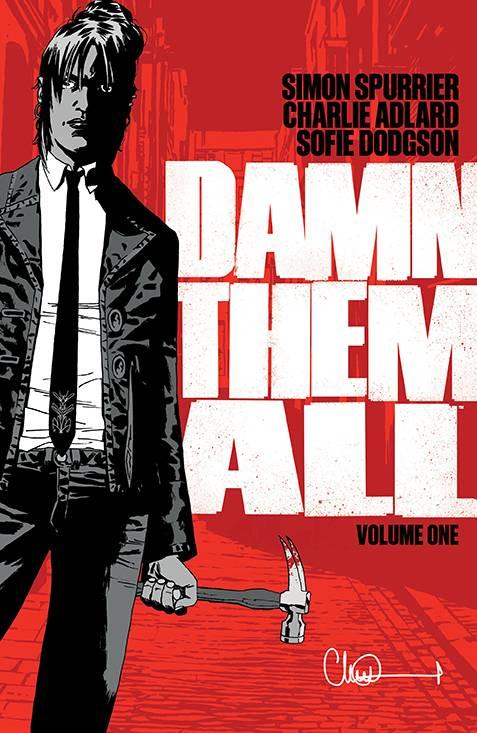 Written by Simon Spurrier
Art by Charlie Adlard
Colors by Sofie Dodgson with Shayne Hannah Cui
Letters by Jim Campbell
Published by Boom Studios
Damn Them All #7 returns an ongoing series originally announced to be a 6-issue miniseries this week, and that's very good news for everyone already reading it. For everyone who hasn't picked up Simon Spurrier and Charlie Adlard's outstanding new horror serial pulled straight from the vein of John Constantine and revitalized for the '20s, there's more good news: the first collection is available alongside the new issue. Damn Them All centers around a new generation of con artist/magician immersed in a world filled with new terrors in the wake of their uncle's death. The first volume fully establishes her supporting cast and world, including a terrific degree of detail surrounding the nature of demons and exorcisms, in the midst of a demon-infused gang war. Adlard's artwork proves why the artist headlined comics' most popular non-superhero series for many years as he showcases new aspects of his artwork with a less grounded form of monsters and mayhem. Damn Them All is, without a doubt, one of my favorite ongoing series today – a consummate collaboration of two ambitious comics masterminds telling a terrific tale of terror. This Wednesday offers the perfect opportunity to catch the entire series to date. -- Chase Magnett
prev
next
Dwellings #1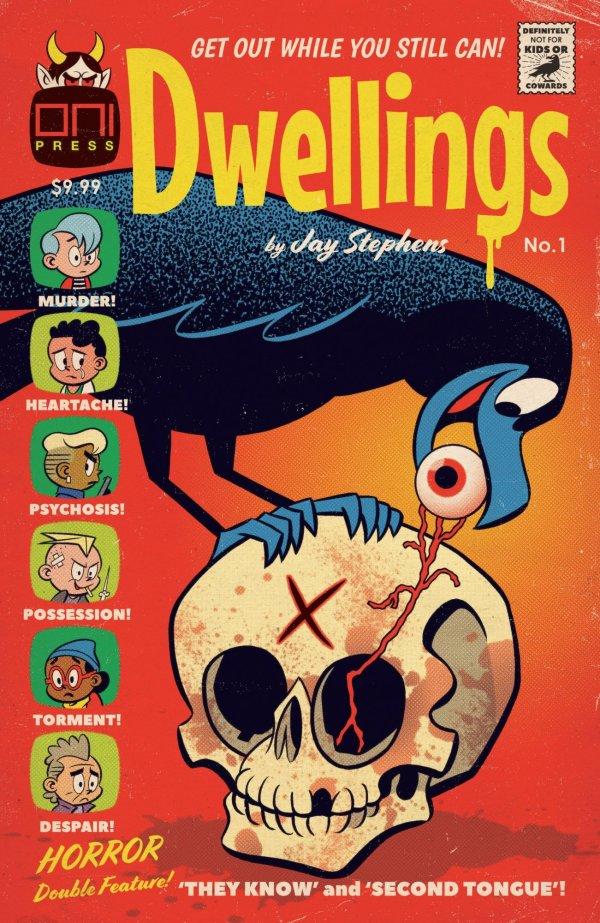 Created by Jay Stephens
Published by Oni Press
Creator Jay Stephens has described his new project Dwellings—a 3-issue miniseries featuring two complete tales in each installment—as a fusion of old Saturday morning cartoons and A24 films; it's an entirely accurate and equally enticing pitch. Stephens has certainly earned his cartoon bona fides many times over with work at Cartoon Network, Nickelodeon, and Discovery Kids in addition to an extensive comics bibliography. Dwellings provides the opportunity to cut loose with the strangest and most disturbing tales imaginable in a style contributing irony to every sequence as adorable children flee in terror. This miniseries promises the satisfaction of excellent horror anthologies in the same vein as EC Comics combined with the guarantee of Stephens' superb cartooning and storytelling instincts honed by the compact forms of comics and television. Dwellings #1 is here to thrill us in August and the tales of terrors will last through October. It's going to be a great fall. -- Chase Magnett
prev
next
Thor: The Mighty Avengers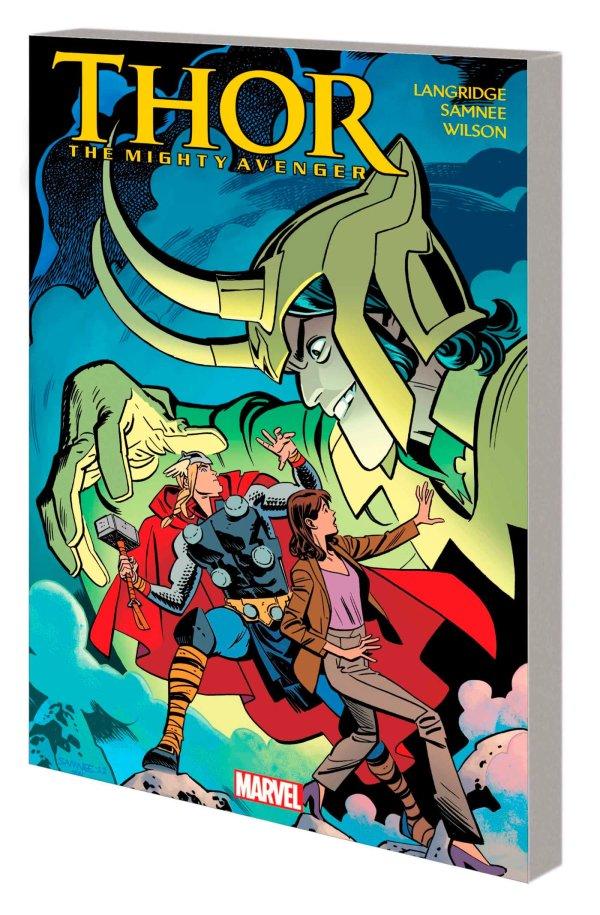 Written by Roger Langridge
Art by Chris Samnee
Colors by Matthew Wilson
Letters by Rus Wooton
Published by Marvel Comics
Before Chris Samnee was Chris Samnee and every comic book fan knew his style from an iconic run on Daredevil and chased after his 31 #Batober sketches, he brought his clean lines and impeccable sense of design to Thor in 8 perfect issues under the title Thor: The Mighty Avenger. It was once a tale of what could have been as the series featuring modernized renditions of early adventures with a charm comparable to My Adventures with Superman from writer Roger Langridge was canceled far too soon. However, it now seems more like a minor miracle that we ever had it to begin with and can now share it for an absolute steal of a price with young readers and comic skeptical friends. These delightful adventures are a showcase in distilled superhero comics where might means a responsibility to be kind. Langridge and Samnee's grasp of Thor as an immensely powerful individual learning to wield that power with care is still moving and taps into one of the genre's richest traditions. Whether you just need a new loaner copy or are looking to discover it for the first time, don't miss the best deal in comics this week at only $13.99. -- Chase Magnett
prev
next
Vixen: NYC Vol. 1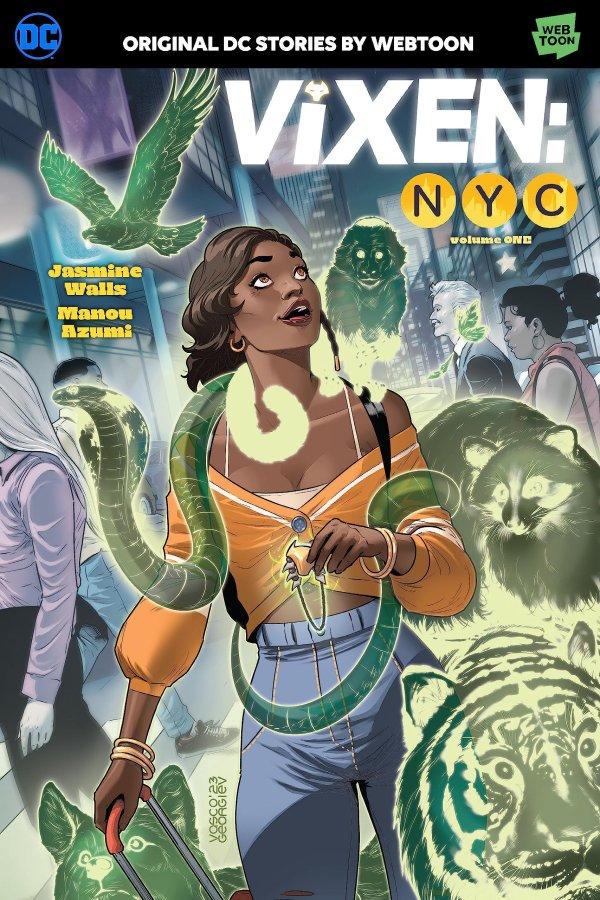 Written by Jasmine Walls
Art by Manou Azumi, BBM, Omar Vallejos, Itsuryuu
Inks by Manou Azumi, Toby Fan
Colors by Hailey Stewart, Jean Kim
Letters by Micah Myers
Published by DC
While Wayne Family Adventures has gotten much of the attention around DC and Webtoon's collaboration, there are some other series from the partnership that I'm so happy to see. Vixen: NYC, a new reimagining of Mari Jiwe's journey as the beloved DC superheroine, is definitely among them. This week, the first volume of the series makes its way into print, and it's sure to be an accessible and delightful new entry point for fans. — Jenna Anderson
prev
0
comments